Wow, two blog posts in a month, not to mention a year! I meant to write about my Cintiq HD13 many years ago, but I never got around to it because I never used it much – until more recently.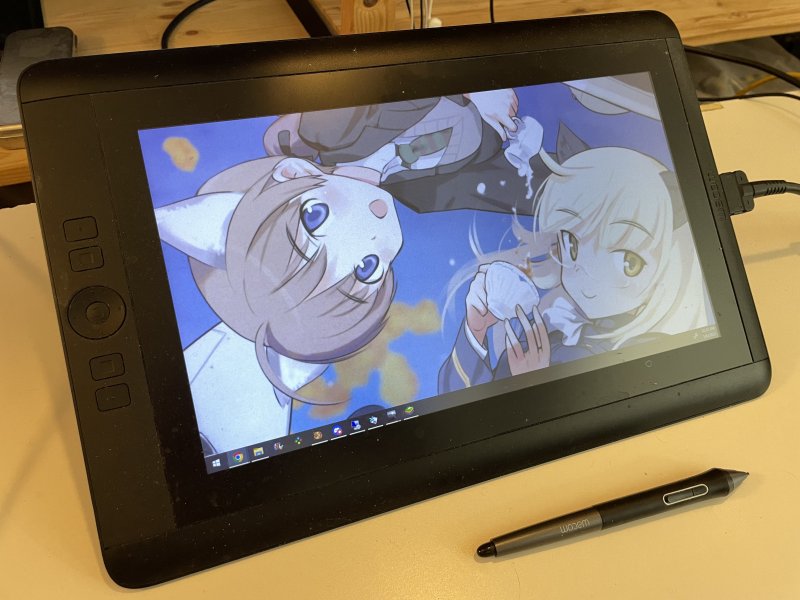 Back in the early 2000s, when I first started doing digital art, I spent four hundred dollars on a much too large Wacom Intuos3, a fairly basic tablet that didn't have a screen. I really would have liked a Cintiq, which did have a screen but cost more than twice as much, but I definitely did not do enough digital work to justify such a thing, and ultimately my Intuos served me well for a number of years.
In the late 2000s, I was looking for small laptops, and I discovered the existence of convertible tablets that had Wacom digitizers built into their screens – just like in a Cintiq! Doing a bit more research, I found that last-gen models could be had for just a few hundred dollars, and these tablets included an entire laptop. I bought the first of many convertible tablets, my trusty HP TC4200, in 2008.
Over the next few years I bought and used a bunch of these machines: the ThinkPad X61t, X200t, X220t, Helix, and Yoga. Unfortunately, Lenovo began chasing trends with increasingly erratic form factors, and digitizer quality and drawing ergonomics seemed to go downhill. The original Yoga infamously had "black holes" in the digitizer that would warp lines drawn with a straight edge.
At this point, the mid 2010s, I became frustrated enough with the lack of good convertible tablets to buy a Lenovo ThinkVision LT1423P, a cheaper, more mobile, and seemingly more convenient alternative to the traditional Cintiq, which still cost close to a thousand dollars. This ultimately did not work out and I finally – maybe in 2014 or 2015 – shelled out $800 for a new Cintiq HD13.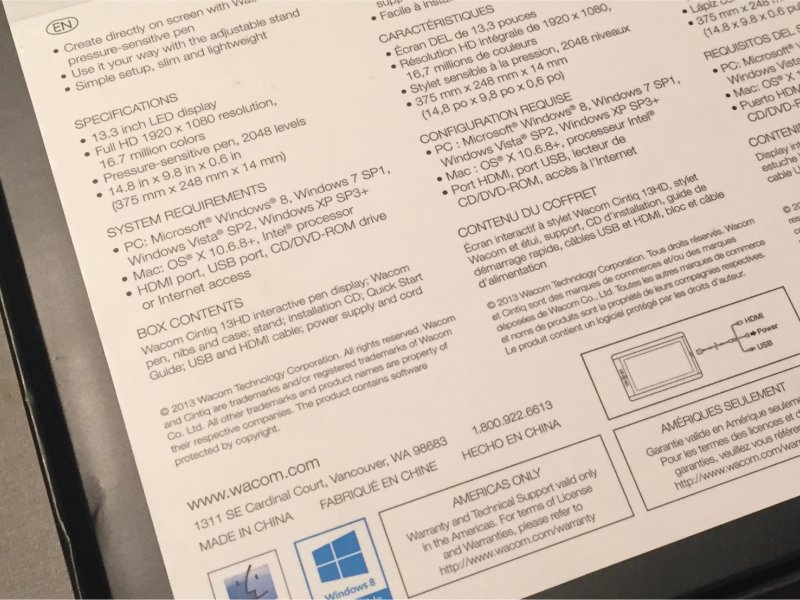 Unfortunately this happened at a time when I started drawing less, especially on the digital side of things. As such, for a long time I barely touched my new purchase, but at the start of Covid I decided to integrate it into my setup and committed to using it more.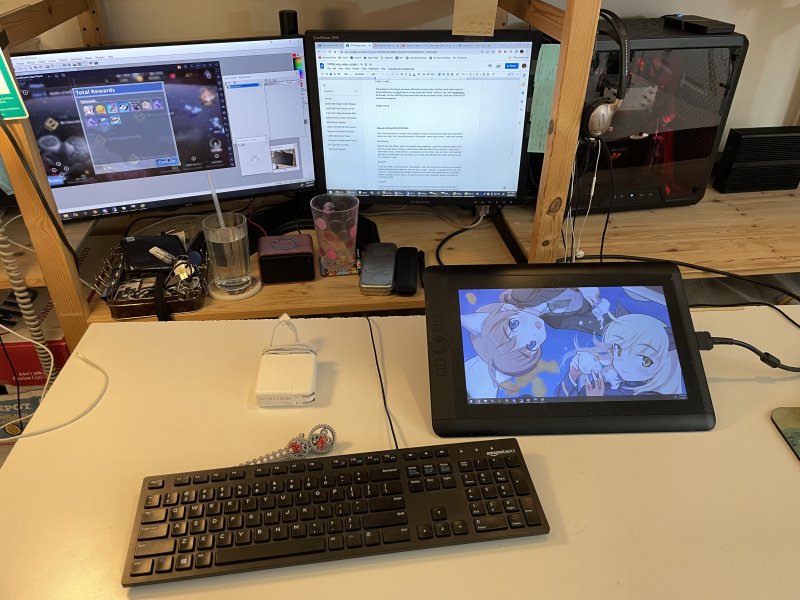 So what did I get for my eight hundred 2015 dollars? I got a nice box, the tablet itself, a tablet stand, a pen with extra tips, a pen stand, a wall wart, and a beefy data cable. It did come with a driver CD, but this was already well past the era of optical media and well into the era of digital downloads.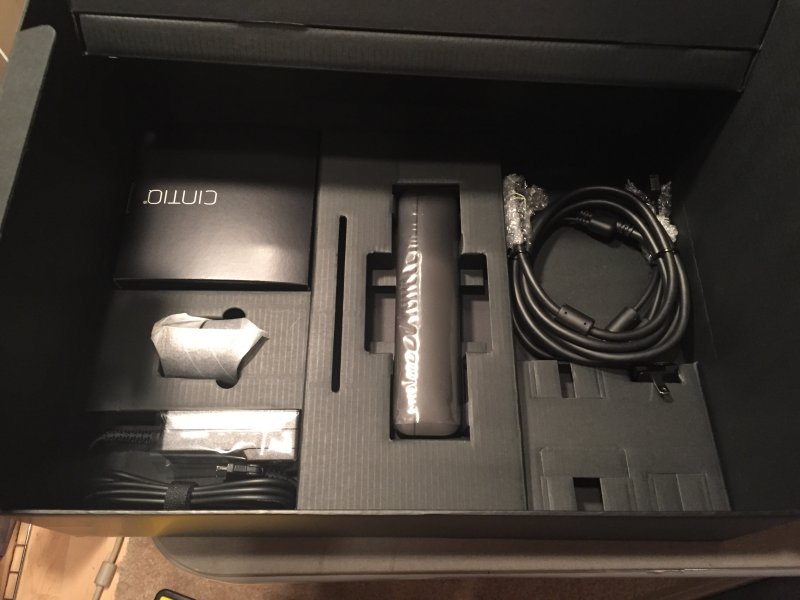 The name of the HD13 aptly describes its thirteen-inch, 1080p screen. It has a fairly large bezel all around, and some programmable buttons embedded on one side. The other side has a wide port for the data cable, a USB A passthrough, and the power button. The back does not have any functional features save for two notches that connect to the stand.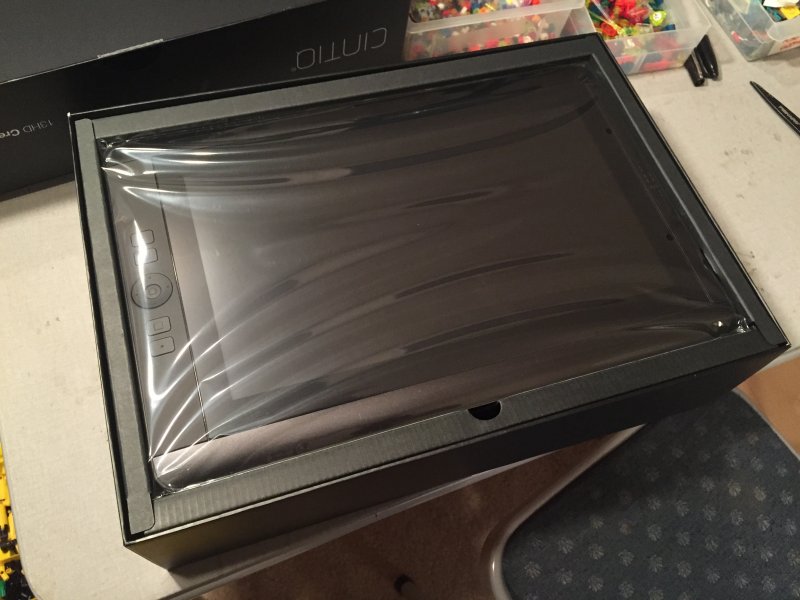 Speaking of the stand… It works fine, but it feels really cheap. Three different fold-out panels can tilt the tablet at three discrete angles, and it isn't terribly convenient to switch between the settings. Furthermore the flaps have living hinges instead of real hinges, which will inevitably wear out over time. The metal backing screams of a glued or taped attempt at a quality finish.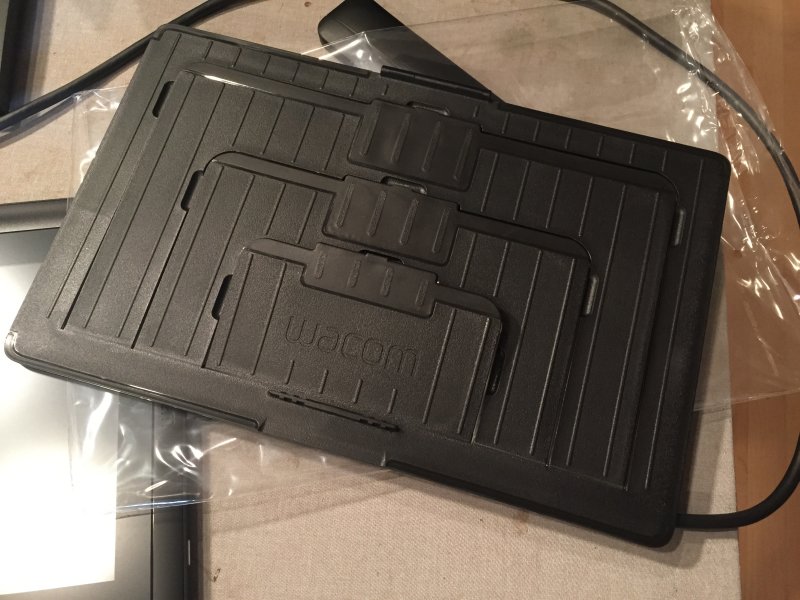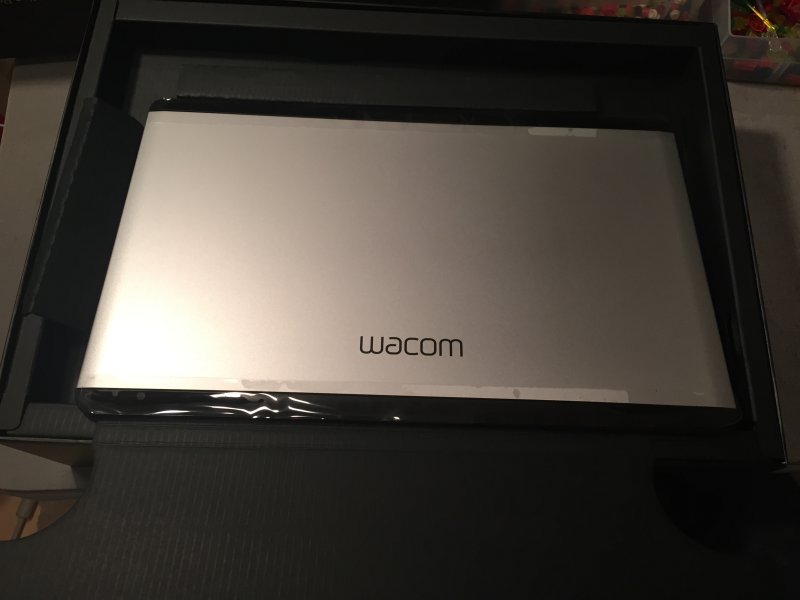 On the flip side, they give you nine tips for the pen, and I haven't even gone through one, and I have definitely put a couple hundred hours on the unit by now. That being said I'm not entirely sure if they are replacements or alternatives, but they all look and feel the same to me. The pen also has a removable, changeable plastic ring for reasons unknown.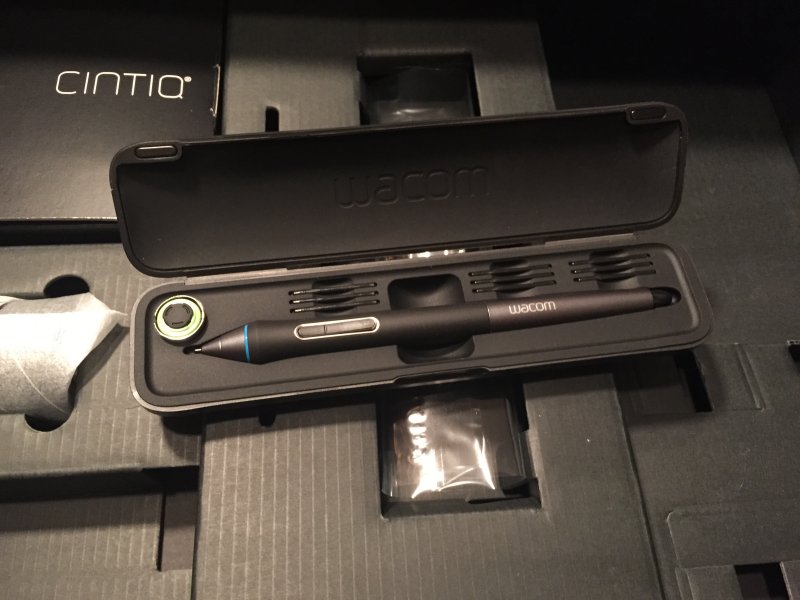 The Cintiq technically has one cable, but it technically has three cables as well. The one fat one splits into HDMI, USB, and power, and I need to connect all three for the thing to work. This doesn't necessarily  make it difficult to set up, but it does make it harder to move around. In contrast I really liked how the ThinkVision LT1423P only required one USB cable.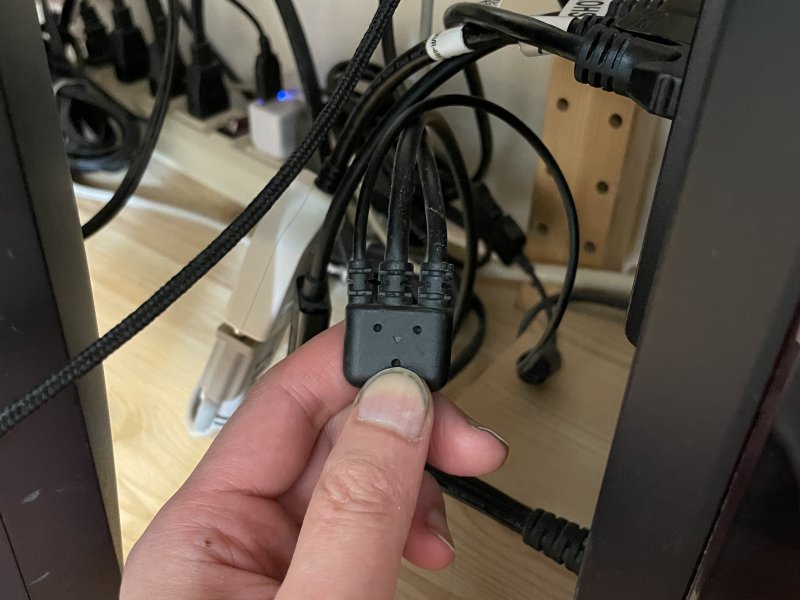 That being said, I'm pretty sure the Lenovo tablet wasn't nearly as nice to use, or I wouldn't have gotten rid of it so quickly: I've had the HD13 for many years, much longer than any previous tablet or convertible. Overall it has been nice to use: the matte screen and the fat pen make for an ergonomic drawing experience, and the tip precision meets or exceeds that of any tablet or convertible I had before.
In fact, I have recently been trying to draw on a ThinkPad Yoga 370, and I have found it much more difficult in all aspects. It's hard to hold the thin pen, and it doesn't move as well on the glossy screen. The tip precision isn't great, and worst of all it varies considerably, especially in the corners! To be fair, the ThinkPad Helix and Yoga S1 had similar issues, and that may partly explain why I had such a hard time with digital drawing in the past.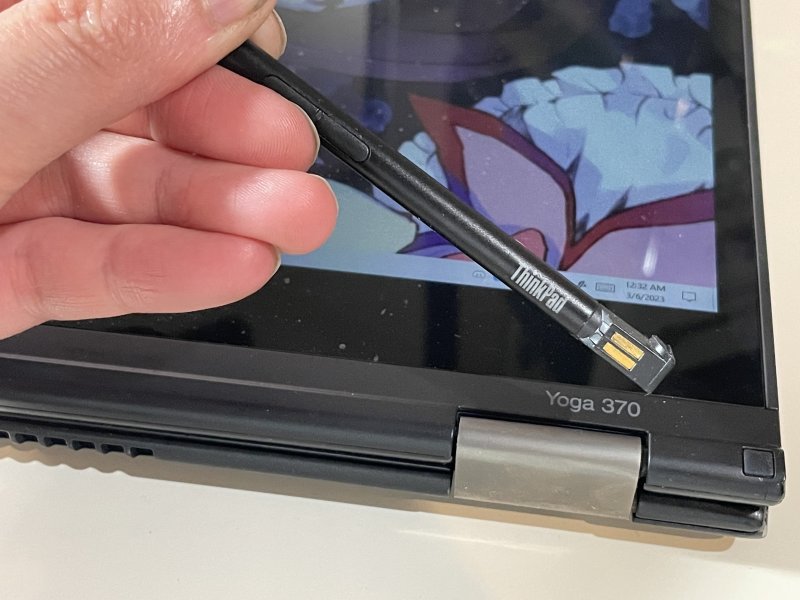 Those older machines also occasionally had issues with lag, but that could have come from running very old software on mediocre laptop hardware. Krita on my Ryzen 5500 and even my old Xeon E3-1230 v3 has been quite smooth and stable. But that's it for now!